Chapter 11. 1970: The End of An Immigrant's Story
"John Ullian and Linda Ferraro: Roots and Legacy www.Ullian.org March 2018"
Summary
In 1970 John Ullian was a patient with multiple health problems at Hines Veterans Hospital near Chicago. He died on 5 Dec 1970 of bronchopneumonia.
In 1970, John Ullian was a patient at Edward Hines Jr. Veterans Administration Hospital in Hines, Cook, Illinois. He suffered from various health issues. When he had to have his foot amputated (gangrene), he thought his children were punishing him for being mean to them and for putting them in Angel Guardian Orphanage and the Illinois State Soldiers' and Sailors' Children's School.
On 5 Dec 1970 John Ullian fought his last battle and died in Hines Hospital of bilateral bronchopneumonia.
John Ullian – 20 Jun 1970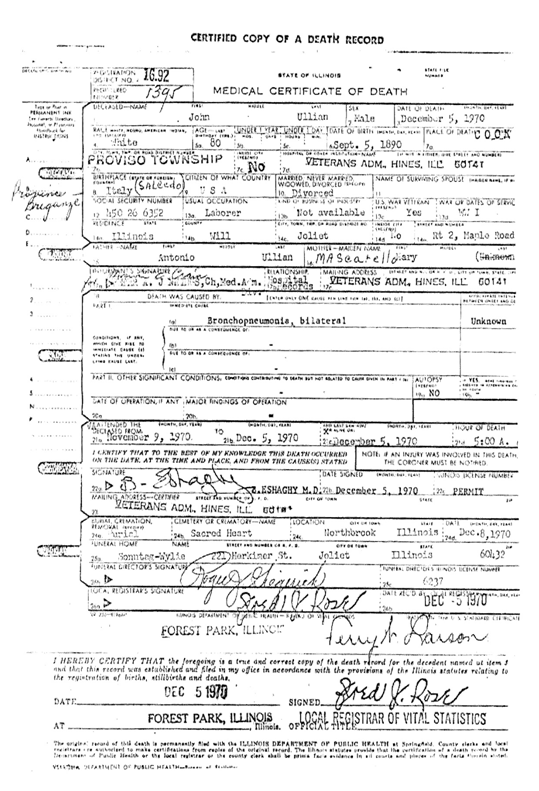 John Ullian's Death Certificate
Obituaries for John Ullian appeared in two local Joliet newspapers. They indicated that John Ullian Sr. of Route 2 Maple Road [where he lived with the family of his daughter Mary] died at age 80 on Saturday 5 Dec 1970 at Hines Veterans Hospital. He was born in Italy and had lived in Joliet the last 27 years [i.e., since 1943]. He retired from Joliet Heating Co. in 1955. He was a World War I veteran and a member of the American Legion. John is survived by two daughters and three sons, all of Joliet: Mary [Mrs. Dave] Larson, Livia [Mrs. Don] French, three sons: John, Gino, and Joseph, all of Joliet, 15 grandchildren, and 5 great-grandchildren. Visitation from 2 to 4 p.m. and 7 to 9 p.m. Monday; services 9:30 a.m. Tuesday at Sonntag-Wylie Funeral Home [in Joliet], and burial at Sacred Heart Cemetery in Northbrook IL.
John Ullian's Obituaries – Joliet Herald News and an Unknown Newspaper
On 8 Dec 1970 John Ullian was buried at Sacred Heart Cemetery, Northbrook, Lake, Illinois, next to his wife, Linda, and their baby daughter, Virginia.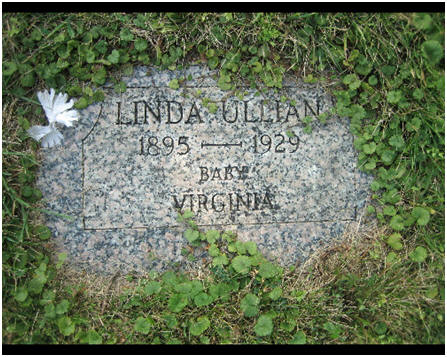 May they rest in peace